Newest Modifications



I hate to do this, but......
Disclaimer: This information is provided as a guide. Check, recheck, and check again before attempting any modifications. I am a shadetree mechanic, and some of these are shadetree (not shady) procedures. What works for me, may not work for you. If you don't like the way I do things - too bad. There are certain risks involved in any modification. I am not responsible for any damage caused by these procedures, blah, blah. Oh, and my lawyer can beat up your lawyer. So thbbbbt.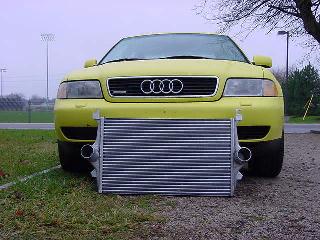 Hmmm...I wonder...



The 2.0 conversion with a T3/T4 turbo is almost done. All I need is an engine management system to get the full potential out of the car.

Pics and information can be found on the following Audiworld posts:
Post 1
Post 2
Post 3
Post 4
Post 5
Post 6
Post 7
Post 8
Post 9
Post 10
Post 11
Post 12
Post 13
Post 14
Unfortunately, all the pics in the posts are off-line temporarily.

Just installed on the car:
Neuspeed Bilstein shocks/struts, Vortrag Hyperco springs, and Powerflex bushings
AWE Drivetrain Stabilizer (DTS)
JAZ oil catch can
I also finally finished the trim plate for the radio, and mounted Oil Pressure, EGT, and boost gauges in the center console.